What people told us about Medequip's Community Equipment Service
This report highlights the views of people using equipment provided by Medequip, and their experiences of the service they have received.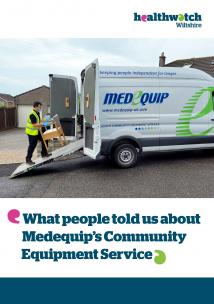 What did we do?
In late 2021 we worked with Medequip, who run the Wiltshire Community Equipment Service. They provide this service on behalf of Wiltshire Council and Bath and North East Somerset, Swindon and Wiltshire Clinical Commissioning Group (BSW CCG) and provide equipment such as walking frames, wheelchairs, beds and hoists. 
Medequip wanted to hear from users of their service and to use this feedback to improve the service they provide. Our survey looked at all aspects of the county's Community Equipment Service, from the information given to people about the equipment to how it is delivered and installed in their homes, serviced and collected
What were the key findings?
Most people told us they were happy with the service they received.
The Community Equipment Service is valued and appreciated by the majority of service users.
Most people felt that equipment was delivered on time and in the condition expected.
The majority said that Medequip staff and delivery staff were friendly and helpful.
People felt strongly that services were delivered and collected in a Covid-safe way.
The assessment process is reliant on the availability of occupational therapists (OTs) and other healthcare professionals but generally works well.
Difficulties were reported with communications about the equipment.
Delivery time slots offered were thought to be too wide which caused difficulty for some people.
Some people were frustrated with the servicing of equipment.
Collection times for taking away equipment and products no longer needed was slow.
Some professionals felt that the service needed improvement and equipment or product availability had deteriorated.
Conclusions and recommendations
This report makes several recommendations to Medequip about improving communications, delivery and collection, coordination with related services and reviewing staffing resources. It also recommends the idea of a collaborative forum to inform service improvements, involving the respondents who volunteered to participate is progressed.