How people would like to access services at Devizes Health Centre
This report highlights the findings from a survey that aimed to gather the views of people on their preferred opening hours and access requirements for the new Devizes Health Centre (DHC) which is due to open in late summer 2022.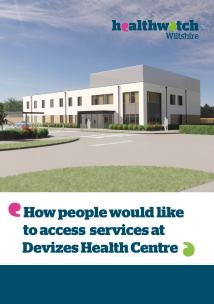 What did we do?
We designed a survey with the Bath and North East Somerset, Swindon and Wiltshire Clinical Commissioning Group (BSW CCG), Wiltshire Health & Care and their other clinical partners to seek feedback from the local community about the new Devizes Health Centre. The survey ran for about 6 weeks, closing on 20 March 2022. Due to the pandemic, we did not meet people face to face but made the survey available to be completed online, as paper copies or over the telephone.
What were the key findings?
There was a positive response to the new health centre, recognising that a lot of time and work had gone into realising the project.
Having multiple services under one roof was welcomed, avoiding long journeys to hospital centres or clinics for treatment.
There was some concern and confusion expressed about the ongoing role of people's existing surgeries and whether these would be relocated to the DHC.
The opportunity for more flexible opening hours including weekends was welcomed by parents and working people.
The need for ample car parking, preferably free, was frequently mentioned to minimise stress to patients as most will travel by car and also to avoid unwanted parking on Marshall Road.
A fast, frequent bus service to and from the town centre, every half hour at least, throughout the day needs to be provided so people without access to a car can get to the DHC efficiently.
Many people were disappointed by the lack of a Minor Injury Unit (MIU) which they were either expecting to be provided or felt was needed.
Provision of x-ray/scanning facilities and an on-site pharmacy was a key theme.
There were requests for more women's services such as breast care, gynaecology, menopause clinic and increased children's services. 
Conclusions and recommendations
This report makes several recommendations for increasing and widening communications with the local community and those who are already using existing services to provide a better understanding of the role of the new Devizes Health Centre and its relationship with other local health facilities.
In the run up to the centre's opening date later this year, the CCG will endeavour to keep the local community updated on the latest developments, and will also give people the chance to have their questions and queries answered by those closely involved with the project.