NHS Long Term Plan Survey Results
This report contains the results analysis of two surveys conducted by Healthwatch Bath & North East Somerset, Healthwatch Swindon and Healthwatch Wiltshire as part of the NHS Long Term Plan initiative.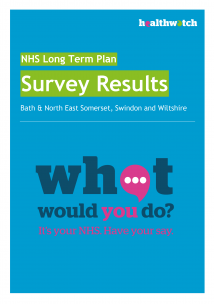 The report details the results of the following surveys:
Survey 1 – people's general experiences of health and care services, and
Survey 2 – NHS support for specific conditions.
Nearly 700 residents, patients and their families took part in the What Would You Do? campaign, which launched in March 2019 to encourage people to share their views about how extra money from the Government should be spent on local NHS services.
The public were asked to give their views about how local services could improve, and to share ideas about how the NHS can help people live healthier lives and take more control of their care.
The report also details the results of focus groups around Primary Care Networks and Frailty/Ageing Well. 
What people told us
Some of the themes that emerged from local people included: 
Increasing the use of technology for booking appointments and data sharing between health services;
Helping people lead a healthier lifestyle to prevent illness;
Shortening waiting times for access to GP appointments; and
For health professionals to have a better understanding of long-term health conditions, such as autism.