Salisbury District Hospital: A Snapshot of Patient Experiences
A snapshot of people's experiences of using Salisbury District Hospital in October 2018.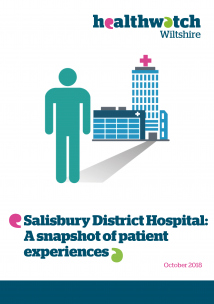 While the focus of the report was on collecting views and experiences of being discharged, we also gathered more general feedback on treatment and care at the hospital. 
Overall, most comments we received from patients and their families were positive. Caring and helpful staff attitudes, good food, the quality of treatment, the standard of most information provision, and the way situations were handled when things went wrong, all deserve recognition.
We made a small number of recommendations, including improving the consistency of information available about the discharge process to patients and their families, and to see if lessons could be learned from readmissions.