Enter and View: Ashgables House
Our report following a visit to Ashgables House in Chippenham, a care home for people with mental health needs and/or a learning difficulty.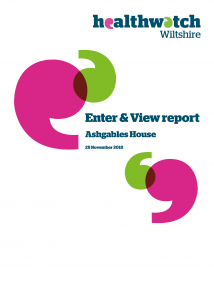 This was an announced Enter and View visit at the request of the organisation and was also conducted as part of Healthwatch Wiltshire's mental health work.
The purpose of the visit was to:
• Look at the quality of life of the people living at Ashgables and to find out their experience of using mental health services.
• Identify examples of good practice.
• Observe residents and relatives engaging with the staff and their surroundings.
• Capture the experience of residents and relatives and any ideas they may have for change.