Better Care Plan engagement report: Information Provision for People Living with Long Term Conditions
A report examining where people go for information on five key long term conditions: cardiovascular disease, diabetes, respiratory disease, cancer, dementia, musculoskeletal, and mental health and wellbeing.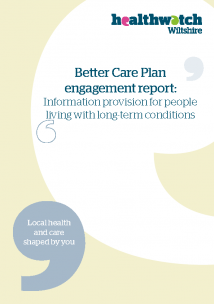 This report is part of Healthwatch Wiltshire's work with the Better Care Plan programme partnership (Wiltshire Council and the Clinical Commissioning Group), to assist in meeting its aim to see health and social care integrated by 2020.
One of the main focuses of the Better Care Plan is to ensure that people are well informed and able to take responsibility for their own health, whether through preventing illness or managing it effectively with as little medical intervention as necessary.
This project aims to evaluate the current provision of information for the five most common long term conditions in Wiltshire.