Better Care Plan engagement report: an Evaluation of Salisbury NHS Foundation Trust Early Supported Discharge Service for Patients with Fractured Neck of Femur
Feedback from patients and unpaid carers on the Early Supported Discharge service for patients with a fractured neck of femur (broken hip).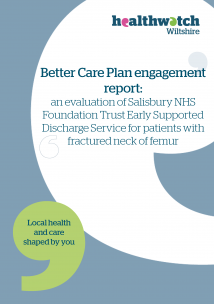 This report is part of Healthwatch Wiltshire's work with the Better Care Plan programme partnership (Wiltshire Council and the Clinical Commissioning Group), to assist in meeting its aim to see health and social care integrated by 2020.
The Therapy Team at Salisbury NHS Foundation Trust has developed an Early Supported Discharge (ESD) service for patients with a fractured neck of femur, and this has been operating since October 2016.
The service supports patients to be discharged as soon as they are medically fit and then provides rehabilitation and reablement at home. In line with the key principles of Better Care, the service aims to reduce length of stay in an acute hospital, and to provide person-centred care as close to home as possible.
The Therapy Team approached Healthwatch Wiltshire for assistance in independently gathering patient and unpaid carer feedback on the service.