Talking to People about Dementia: A Focus on Support for People with the Most Complex Needs
People share their views on proposals for caring for people living with dementia who have complex needs, which were put forward by Wiltshire Clinical Commissioning Group and Wiltshire Council in 2017.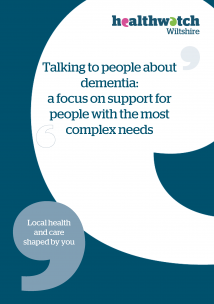 This report focuses on what the public said when Healthwatch Wiltshire asked them about dementia between 25 July and 25 August 2017. 
As well as the sharing their views about the proposals, people also commented on dementia services in general in Wiltshire and this feedback is also included in this report.