Talking to People about Dementia: A Focus on Primary Care
People living with dementia and their carers share their experiences of primary care services in Wiltshire, including GP surgeries and health care centres, pharmacies, opticians and dentists.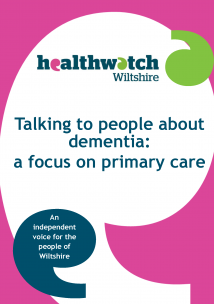 Healthwatch Wiltshire, along with voluntary sector organisations, spoke to local people about their experiences and views of dementia and services in Wiltshire. This report tells you what people said when we spoke to them about primary health care.
Primary health care is provided in the community for people making an initial approach to a medical professional or clinic. This covers health care centres, dental practices, community pharmacies and high street optometrists.