Quality Checkers Pilot Project - Evaluation
This project provided people with a learning difficulty the opportunity to check the quality of residential care services.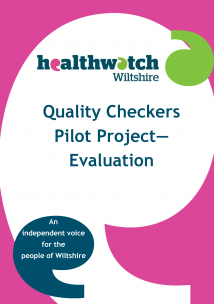 Our work with Wiltshire People 1st, a user led organisation that empowers people with learning difficulties, to deliver a pilot project which would provide suitably trained and supported volunteers, with a learning difficulty, the opportunity to participate in our Enter and View programme.
This group of Quality Checkers then visited Mencap accommodation in Chippenham to look at how support is provided to adults with learning difficulties.
This report provides a summary and evaluation of the project.