Results of the Public Consultation on the Permanent Location of a Specialist Dementia Hospital in Wiltshire
The views of local people on a where a specialist dementia hospital should be located in Wiltshire.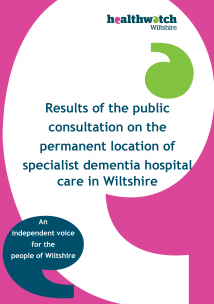 This report will tell you what local people said when they were asked about where specialist dementia hospital care should be permanently located in Wiltshire.
Healthwatch Wiltshire independently facilitated the public consultation between 1 December 2014 and 10 March 2015.