Second Covid-19 booster now available for over 75s and care home residents
Older people living across Bath and North East Somerset, Swindon and Wiltshire who had their first Covid-19 booster jab at least six months ago are now being encouraged to come forward for a second.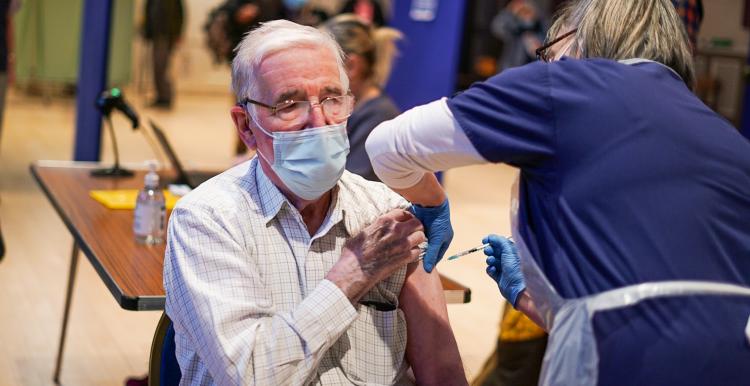 From Monday 21 March, people aged 75 and over can have their immunity to Covid-19 topped up by arranging to have an additional coronavirus booster jab.
People in this age group are advised to book their appointment for the second booster jab, which for many will be their fourth Covid-19 vaccine, as soon as six months have passed since the date of their previous vaccination.
Appointments can now be booked online at www.nhs.uk or over the phone by calling 119.
Some people may also be contacted directly by their GP practice with information on how to book a vaccine.
Dozens of venues across the region, including GP practices, pharmacies and the large vaccination centres at Bath Racecourse and Salisbury City Hall, will be offering the top-up booster jabs.
Gill May, Director of Nursing and Quality at Bath and North East Somerset, Swindon and Wiltshire Clinical Commissioning Group, said:
"It's hugely important that people who are most at risk of falling seriously ill with Covid-19 keep their resistance to the virus in check.

"This additional vaccine provides our older population with an extra layer of protection, and is being offered to ensure that the immune-boosting effect of previous vaccinations can be prolonged even further.

"Cases of Covid-19 continue to rise, especially in the local region, and with national coronavirus safety measures no longer in place, now is the absolute right time for people to get re-boosted."
In addition to those aged 75 and over, people living in a dedicated care environment will also be eligible for a second booster.
All care homes in the region will be visited in the coming weeks, with residents able to receive the vaccine at their bedside.
Keep yourself and others safe
People not currently eligible for this latest vaccination offer can keep themselves safe from Covid-19 by having both primary doses of the vaccine, as well as the first booster, and also by continuing to wear a mask in public places and observing social distancing wherever possible.
Although no longer a legal requirement, people should carry on staying at home and away from others whenever any possible signs or symptoms of Covid-19 develop.
Salisbury City Hall to continue as a vaccination centre
It has now been confirmed that Salisbury City Hall will remain as one of the region's two large vaccination centres until at least June of this year.
In addition, Wiltshire Council has also pledged that, should the venue be needed as a vaccine clinic after this summer, vaccination teams will be able to stay based at the site through to March 2023.
More information about the local rollout of the Covid-19 vaccine, including details of nearby vaccination venues, can be found online at www.bswccg.nhs.uk.