Community Equipment Service earns praise from Wiltshire public
A service which provides equipment to people's homes to help them live more independently is highly valued by those who use it, a Healthwatch Wiltshire report reveals.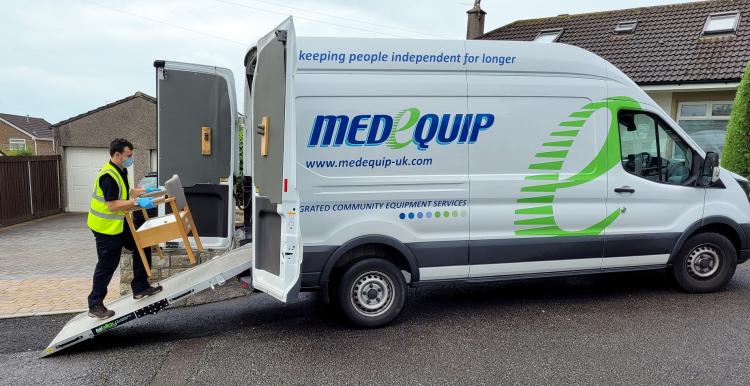 We asked people what they thought of the Wiltshire Community Equipment Service, which is run by Medequip on behalf of Wiltshire Council and Bath and North East Somerset, Swindon and Wiltshire Clinical Commissioning Group (BSW CCG), and provides items such as walking frames, wheelchairs and hoists.
Our survey, which received just over 70 responses, looked at all aspects of the service, from the information people are given about their equipment to how it's delivered and installed in their home, serviced and collected.
What people told us
The Community Equipment Service is valued and appreciated by the majority of those who use the service.
Most people said they were happy with the service they received and that all staff were friendly and helpful. 
Most people felt that equipment was delivered on time and in the condition they expected.
People also noted that services were delivered and collected in a Covid-safe way.
Delivery time slots offered were thought to be too wide which caused difficulty for some people, while collection times for taking away equipment and products no longer needed was slow.
Most felt that while the assessment process to get equipment relies on the availability of occupational therapists and other healthcare professionals, it generally works well.
Some frustrations were reported around communication and the servicing of equipment.
Healthcare professionals suggested that some improvements could be made around the communication of stock levels, arranging urgent deliveries, and the availability of delivery staff to assemble and install equipment. 
Our findings have been shared with Medequip and the Wiltshire Community Equipment Service commissioning and management team, who will be setting up an online forum to hear more from those who use the service and their carers about what they would like to see from the service in the future.
Michaela Harris, Medequip's General Manager for the South West and Suffolk, said:
"The feedback we received has allowed us to really tailor some future offerings on behalf of the users of the Community Equipment Service in Wiltshire. 

"The pandemic has presented significant challenges with our supply chain and staff availability in the last two years and we're working hard to address the impact this has had on the service. As part of this ongoing work, we will be hosting a meeting so that people get to see what we have done as a direct result and to allow us to continually improve what we do in Wiltshire together."
Rebecca Lockwood Norris, Senior Commissioner for Adult Social Care at Wiltshire Council, and Hannah Massey, Commissioning Manager at BSW CCG, said:
"We're pleased to be working with Medequip to respond to the areas identified for improvement in the survey report and also acknowledge the positive feedback received. Our thanks go out to Healthwatch Wiltshire and to those who took time to complete the survey to help us to improve the service."
Stacey Sims, Healthwatch Wiltshire Manager, said:
"Thank you to everyone who shared their feedback on the Wiltshire Community Equipment Service. We're pleased that people's views will be taken forward to help shape the way this service is developed."