Experiences of GWH patients revealed in joint Healthwatch project
A joint Healthwatch project looking at the experiences of patients using the Great Western Hospital (GWH) in Swindon has revealed that while most people were satisfied with the care they'd received, there were areas where improvements could be made.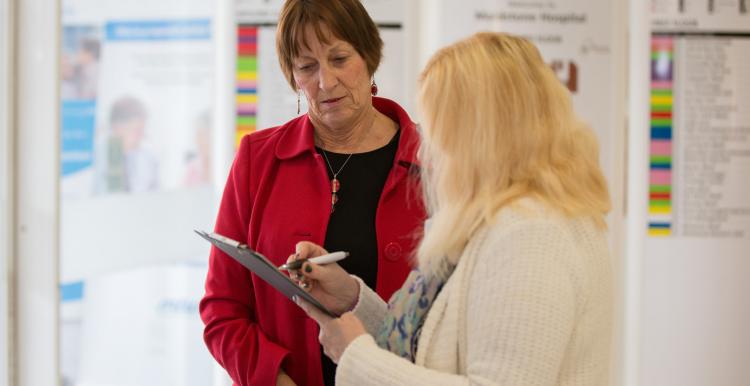 Working together to cover the catchment area of GWH patients, Healthwatch Wiltshire, Healthwatch Swindon and Healthwatch West Berkshire listened to the experiences of people that had used the Emergency Department (ED) and Urgent Care and four inpatient wards during July 2021.
A mix of online surveys, Covid-safe face to face visits, virtual interviews, and phone calls were used to gather feedback from a total of 196 people. 
What people told us
Staffing pressures and shortages were widely recognised by patients and the impact that this had on care. 
Most people said they had first sought help from other services before attending ED or Urgent Care.
While negative comments focused around long wait times in ED, three quarters of respondents rated the quality of treatment they'd received there as good or very good. 
Many suggested having more urgent appointments available at other services would help reduce the need to go to ED.
Most people were satisfied with the quality of care and treatment they had received on the wards, with many praising the kindness of staff. 
A small number of people did not feel they had been treated with dignity and respect, didn't feel involved in their care, or felt safe. 
Food was seen as an area that could be improved, with concerns raised about special diets not being catered for. 
While the discharge process worked for some, for many there were delays and communication was raised as an issue. 
Carers reported a worse experience generally than patients themselves.
Lisa Cheek, Chief Nurse at Great Western Hospitals NHS Foundation Trust, said:
"The experience of patients is key to helping us improve the care we provide and my thanks go to Healthwatch for providing us with this rich body of evidence... and to those patients who gave their views as part of this process.

"We will use this document alongside other surveys, data, and feedback from patients to make improvements to deliver better care."
Stacey Sims, Healthwatch Wiltshire Manager, said:
"Thank you to everyone who shared their views with us. While it's great to hear that many people had a positive experience of their time in hospital, they also made some important points about how things could be improved at GWH. 

"Our detailed report will help support the Trust to develop these changes and we'll continue to meet regularly with them to monitor their progress."
Amritpal Kaur, Healthwatch Swindon and Bath and North East Somerset Portfolio Manager, said:
"We were delighted that this collaborative project was able to collect the feedback that it did under what were quite challenging circumstances."
The experience of patients is key to helping us improve the care we provide.