Healthwatch Wiltshire pledges support to Armed Forces by signing Covenant
Healthwatch Wiltshire is delighted to announce that it has signed the Armed Forces Covenant, a pledge that ensures those who serve, or who have served, in the Armed Forces, and their families, are treated fairly.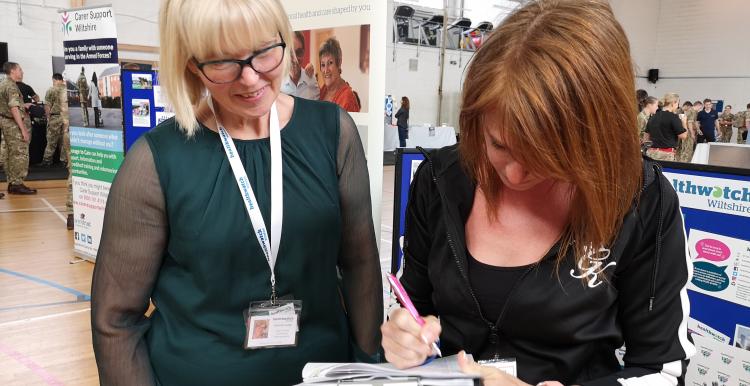 By signing the Covenant, Healthwatch Wiltshire will seek to uphold its principles by continuing to build links with local military communities, and to actively seek the views of serving personnel, reservists, veterans, and their families on their experiences of health and care services.
Healthwatch Wiltshire Manager Stacey Sims said:
"It's a great privilege for us to sign the Armed Forces Covenant. Wiltshire has a long-established military community which continues to grow, and we want to do our best to ensure that military personnel and their families are able to share their views on services and can get their voices heard."
Our work with military families
In 2019, our research team of volunteers launched a survey to ask military families moving into the area how they accessed GP surgeries, dental care, mental health, social care and other services. 
With 4,000 service personnel and their families relocating to Wiltshire from Germany as part of the Army Rebasing Programme, we wanted to find out how easy it had been for them to find new services, the continuity of care they received after being transferred, and how health services in Wiltshire compared to where they lived before. 
More than 100 people responded to the survey, and our findings revealed:
While registering with a GP was an easy process, finding a dentist was not.
There were significant problems with communication and transfer of records, and a lack of continuity transitioning between specialist services.
Mental health support was not always accessible or consistent for adults or children and young people.
Our findings have been shared with organisations across Wiltshire who are involved in supporting and providing services to military families, so they can use these findings to consider what is working well and what could be improved.
Hazel Dunnett, research project volunteer and Healthwatch Wiltshire Board member, said:
"As a former nurse in the Queen Alexandra's Royal Army Nursing Corps, I have had my own experiences of being transferred and having to find new services, so it felt good to reach out to these families and give them the chance to tell us how things were going."