Think NORO and help stop the spread of norovirus this winter
People living in Bath and North East Somerset, Swindon and Wiltshire are being asked to help stop the spread of norovirus this winter by following some simple steps.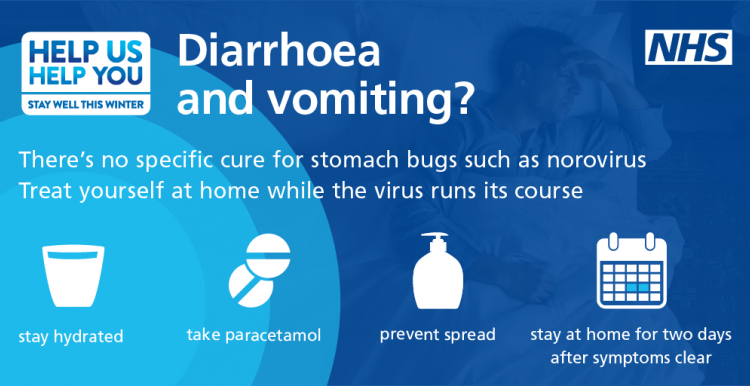 Norovirus – often referred to as the winter vomiting bug – is a very unpleasant and highly contagious stomach bug that causes diarrhoea and vomiting.
Although most people will recover within a few days, if it is introduced unintentionally into schools, nurseries, hospitals or care homes, it can spread incredibly quickly and affect vulnerable people.
Norovirus is already causing problems in hospitals across the area and has led to ward closures and had an impact on waiting times.
To help reduce norovirus-related problems this winter, health and care leaders in BaNES, Swindon and Wiltshire are asking people to play their part in stopping the spread of the condition by thinking NORO:
N  No visits to hospitals, care homes and GP surgeries if you are suffering from symptoms of Norovirus – send someone else to visit loved one until you are better.
O  Once you've been symptom-free for at least 48 hours, you're safe to return to work, school or visit hospitals, GP surgeries and care homes
R  Regularly wash your hands with soap and warm water, especially after using the toilet, and before eating or preparing food
O  Only hand-washing will prevent spread of norovirus – alcohol hand gels DON'T kill the virus
Dr Richard Sandford Hill, Chair of Wiltshire Clinical Commissioning Group and a GP in Market Lavington said:
"There have already been a number of clinical settings across BaNES, Swindon and Wiltshire affected by norovirus and we're keen to keep these to a minimum as our health and care services begin to experience increased demand on services this winter.

"Self-treating at home is the best way to help yourself and avoid putting others at risk. You don't normally need to see your GP as usually drinking plenty of water and taking paracetamol to relieve pain will help.

"If you're concerned, the NHS 111 phone or online service is a helpful alternative to going to your GP in person for advice."