Two thirds of people say Wiltshire is dementia friendly
Wiltshire is a dementia friendly community which is greatly valued by those living with the condition and their carers.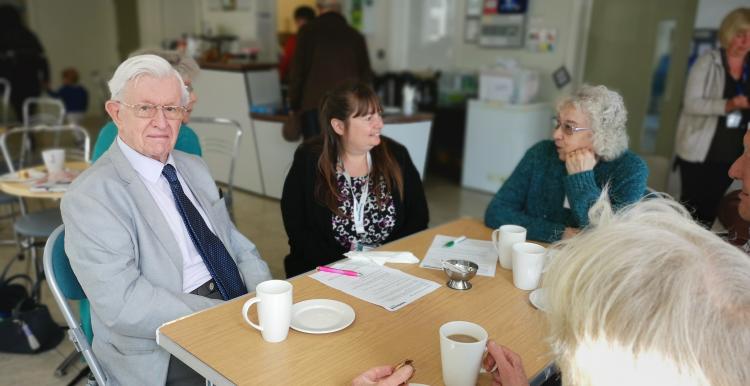 That's the key finding of Healthwatch Wiltshire's latest report, which gathered the views and experiences of more than 100 people in the county who are affected by dementia. 
How Dementia Friendly is Wiltshire? focuses on two elements, how local dementia friendly initiatives are working to make their area more dementia friendly, and how much those living with dementia feel they benefit from them. 
We visited 15 community groups across Wiltshire and invited people to take part in a survey or a 1:1 interview to gather their feedback. 
What did we find out?
Two thirds of people living with dementia and their carers (66%) told us their community is dementia friendly and feel a part of it.
People also told us they valued greater dementia awareness, understanding from others, and community groups that they could get involved with.
The attitude of others in helping people to feel included, understood and given support was seen as more valuable than changes to physical environments to make them more dementia friendly.  
Our report shows that the effects of dementia friendly initiatives can be positive and wide-ranging, including improved physical and mental health, wellbeing, independence and community involvement. 
Those running dementia friendly initiatives said that they would like more support to publicise themselves so that people could find what help is out there for them more easily. Some initiatives said they needed more help to work better for the people they wanted to reach. 
Some people said that there was still a need for more dementia awareness in their community, while many thought transport to enable more people to attend groups could be improved, particularly if they lived in a rural area or could no longer drive due to their dementia. 
Healthwatch Wiltshire manager, Stacey Plumb said:
"The information people have shared with us shows that Wiltshire has made great progress towards being dementia friendly. We'd like to thank all the people who spoke to us so honestly to us about the benefits this has brought to them, and how they would like to see initiatives develop in the future. 

"We'd also like to thank the community groups and organisations that supported this project, particularly the Laverstock Memory Support Group who helped us develop our survey.

"Dementia has been a priority area for us over the last four years. The feedback we've collected has already been used to make improvements to services and we'll be showing the impact this has made in a second report, which will be out in the coming weeks."