Campervan Tour reveals highs and lows of county's health and care services
The findings of a tour which collected more than 2,000 comments from the public have been published in a new Healthwatch Wiltshire report.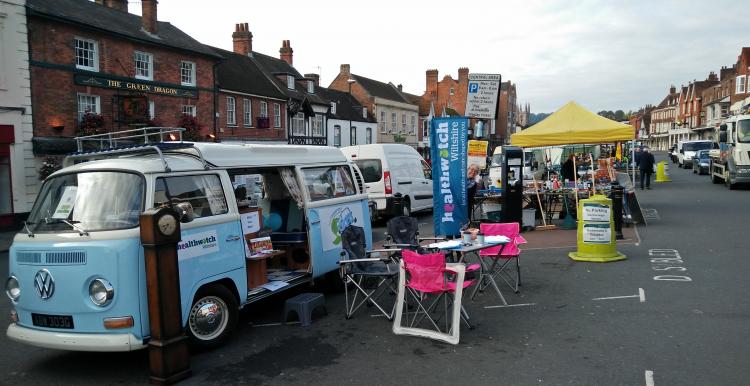 Last summer's Campervan and Comments Tour saw Healthwatch Wiltshire staff and volunteers travel 400 miles around the county to gather the views and experiences of people of all ages on health and care services.
 
Taking to the roads in a classic 1969 VW campervan, the team parked up in town centres, supermarkets, schools, clubs and community groups, collecting 2,077 comments during a two-week tour.
Overall, most of the comments received - 58.5 per cent - were positive, with 35% negative and 6.6% neutral.
What people told us
The majority of comments the Healthwatch team received were about GP services (1,320), with the rest about hospitals (567), social care (74), dentists (41), mental health (38) and pharmacies (15). Twenty-four comments concerned other services, such as NHS 111 and physiotherapy. 
Most people were happy with the treatment they received from their GP but were unhappy about long waiting times to get appointments.
Hospital maternity, children's and cancer services were highlighted as good, but long waits to see consultants drew negative comments.
Communication between hospitals and other services was highlighted as an issue, and experiences of using social care services appeared to be inconsistent.
Delays in accessing mental health services were a concern, but many also said staff were helpful and treated them well.
Most people told us they were happy with their dentist and the quality of treatment they received, whether NHS or private.
Healthwatch Wiltshire Manager, Stacey Plumb said:
"The aim of the tour was to get an overall picture of experiences across Wiltshire and identify common themes. We had a fantastic time chatting to people and would like to thank the hundreds of people we spoke to for taking the time to share their experiences with us. 

"While there were some negative comments, it was great to hear that so many people have had a positive experience using health and care services in Wiltshire. 

"Our goal now is that these views are used to make a difference to the way services are planned and managed."
 
Healthwatch Wiltshire's next steps will include working with Wiltshire Council's new adult social care advice and contact team to ensure people's views are considered.
Stacey added: "Since the tour, we have been gathering more detailed feedback on mental health services, which has formed a key part of our work this year."
The tour was conducted under Healthwatch Wiltshire's previous provider, Evolving Communities.