What do you think of Healthwatch Wiltshire?
As part of our new contract with Help and Care, a benchmarking activity was carried out in June 2018 to hear what local people, providers and commissioners thought of Healthwatch Wiltshire, its effectiveness, and to identify areas of improvement.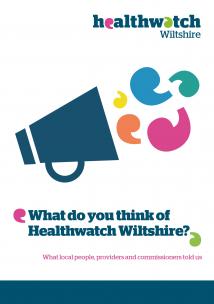 To reach a range of people, we devised two surveys — one aimed at local people and the second aimed at providers and commissioners of services.
Local people told us we should increase our publicity and be more visible in our communities, with NHS services and libraries the top choices for where we should go to do this. 
They also told us we should make mental health and social care our priorities for the year ahead. Both have now been incorporated into our 2019/20 work plan. 
The Provider and Commissioner Survey was based on the following headings from the Healthwatch England Quality Statements:
• Strategic context and relationships
• Community voice and influence
• Making a difference
• Informing people
• Relationship with Healthwatch England
Around half of respondents thought that Healthwatch Wiltshire brought added value, had collaborative relationships with key decision makers and made a contribution to the decision-making structures such as the Health and Wellbeing Board.
Most respondents thought that our work brought added value by incorporating the public voice and half felt that reports produced are independent and clear. 
There were mixed views about the signposting, information and advice service provided by Healthwatch Wiltshire and how this complements that provided by others. 
A wish was also expressed by some to build stronger working relationships going forwards. 
Read our report to find out more about what people told us, the work we have done so far and our next steps.