Our thanks to volunteers who help shape health and care in Wiltshire
We're celebrating the difference volunteers make to their community in honour of this year's Volunteers' Week, which runs from 1-7 June.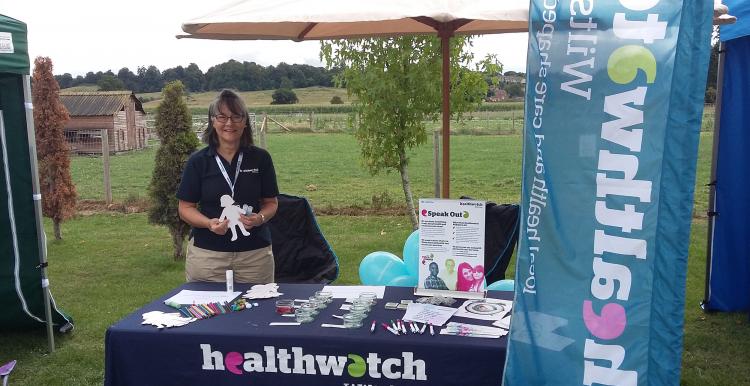 Around 40 volunteers currently offer their time to Healthwatch Wiltshire in its work to make health and care services meet the needs of local people.
 
Our volunteers are regularly out talking and listening to people in the community, finding out what is good and what could be improved about local health and social care services. They are often found at community events, but also visit the services themselves to speak to patients and gather their views. 
 
Volunteers also give advice and information about the NHS and social care services to the public, as well as provide vital behind-the-scenes support in roles like admin work.
 
By helping people have their say about NHS and social care services, volunteers at Healthwatch Wiltshire donated more than 830 hours of their time last year. 
 
And they are also part of a network of more than 5,000 people who are involved with Healthwatch across the country.
 
The work at each local Healthwatch contributes to work at Healthwatch England in its mission to ensure that people are at the heart of care.
Healthwatch Wiltshire Volunteer and Partnerships Lead Jo Woodsford said:
"Our volunteers are our ambassadors and they are at the heart of everything we do.

"Without them it simply wouldn't be possible to reach out to so many people across Wiltshire. They each make their own unique contribution so I'd like to say a big thank you to each and every one of them for bringing their skills, experience and dedication to supporting us.

"If you're thinking of volunteering, we'd love to hear from you. Whether you have an hour or two to spare or are looking to make a more regular commitment, we will be able to find a role to suit you." 
'Go for it! Give it a try' 
Why our volunteers signed up to support us.
Dan 
A retired corporate lawyer and a volunteer Citizens Advice Adviser, Dan gets involved in Enter and View visits, sits on our Readers' Panel, helps out on information stands and supports us in our engagement projects. The reason he became a volunteer was because he enjoys "learning about health issues and listening to other people's experiences."
Sarah
A nurse and former hospice CEO, Sarah joined us because she wants to make sure people who use health and social care services have a voice.
"You will meet a wide range of interesting people, you will be well supported by the staff and you will have a choice about what, where and when you volunteer," she says.
Jeni
Jeni has a background in parent and child mentoring and running literacy workshops for parents and preschool children. She likes "being part of a team with dedicated, professional people who are passionate about making a difference."
June 
June's background is working within social care, supporting people with autism or learning difficulties. She takes on a variety of roles for us, including manning stands and making phone calls and says everyone should try their hand at volunteering.
She says: "Go for it! Give it a try. You'll get out of it as much as you put in and you'll meet up with lovely and interesting people!" 
Find out more
Come along to these events to find out more about volunteering for Healthwatch Wiltshire: 
Saturday 1 June: What's Your Gift? Volunteer Fair, Civic Centre, Warminster, 10am-12pm.
Tuesday 4 June: Wessex Community Action and Wiltshire Council Volunteer Fair, Salisbury Library, Market Walk, Salisbury, 10am-4pm. 
To find out more about volunteering, visit our Volunteer page or contact Jo at joanne.woodsford@healthwatchwiltshire.co.uk or on 07977 221661. 
If you are not able to volunteer, you can still make a difference by sharing your experiences of health and social care services with us. No matter how big or small, we want to hear about it. Visit www.healthwatchwiltshire.co.uk/have-your-say or call 01224 434218.